Experience the power of nature with ibody NZ. Our luxurious skincare products are infused with active Ingredients that nourish your skin from within, leaving you with a youthful, radiant glow, & protecting you from the harmful effects of Blue Light & Air Pollution. Suitable for all ages, our products are crafted with sophisticated & innovative care, featuring a range of beautiful ingredients that awaken your senses & transport you to a world of indulgence. Discover the ultimate skincare experience with ibody NZ.
Our products' key active ingredients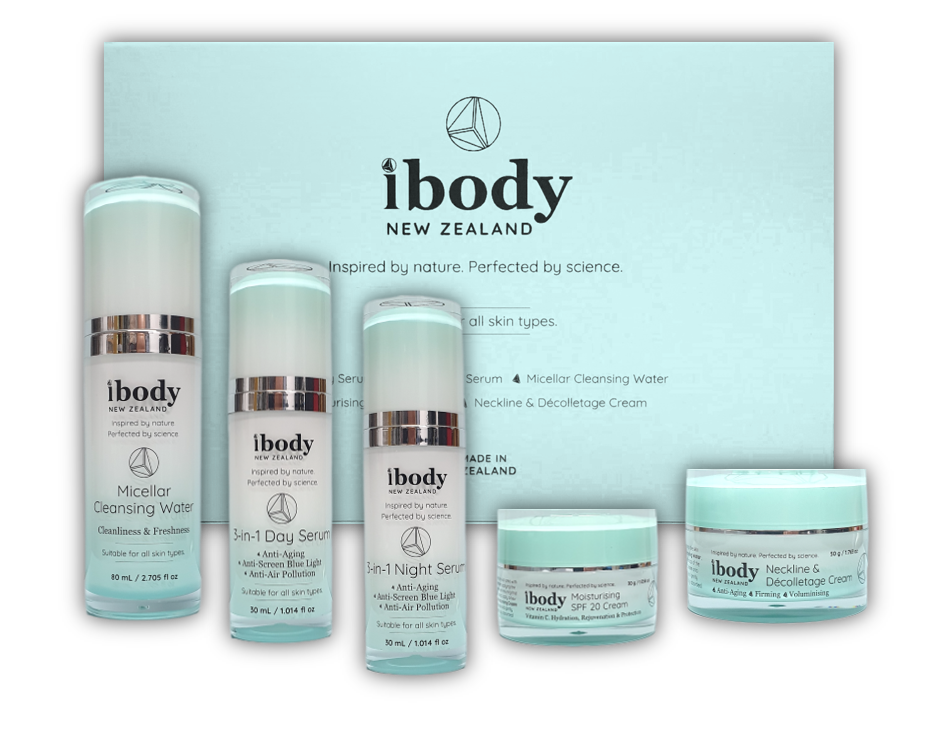 3-in-1 Day & Night Serums contain:

Seven different molecular weights of hyaluronic acid to provide skin with superior moisturisation and to stimulate it to produce more hyaluronic acid for deeper hydration
Plant based natural texturizing that offers immediate hydration and resistance to electrolytes
Nature identical multi-functional anti-aging peptide to stimulates Collagen synthesis and to stop the oxidative damage
Tasmanian Pepper fruit that soothes and calms reactive skin, reduces inflammation markers and appearance of skin redness, and relieves itching and burning sensations for better skin comfort
Exopolysaccharide that Induces the production of hyaluronic acid, filaggrin & lipids synthesis to stimulate natural skin hydration, and to protect & restore the skin barrier function to limit excessive water loss
Organic botanical extract of the Anigozanthos flavidus to increase the production of the dermis architectural protein (Tenascins-X), dermal proteins synthesis (collagen and elastin), and fibroblast contractile forces, which rapidly decreases the appearance of wrinkles as well as skin roughness, and improves sagging skin with building effect over time
Exopolysaccharide that chelates heavy metals on skin surface to protect it from toxic chemicals urban pollution, to provide a shielding effect, and to increase resistance against sun damage. Overall it makes the skin better adapted to climatic changes and improves dull skin for a healthy look after only 7 days
Protects skin cells from screen-emitted artificial visible light, and strongly reinforce it to visibly revive where the signs of fatigue disappear in favor of a healthy glow
Unique blend of glyceryl polyacrylate, PVM/MA, and silicone elastomer for a high power of water retention and hydration, and to also provide moisturizing aesthetics and functionality to formulations
Moisturising SPF 20 Cream contains:

100% natural medium chain triglyceride (MCT) sustainably derived from castor oil and coconut oil for an elegant after feel with exceptional dispersing agent for inorganic UV filters and pigments
Fused fermentation and amino acid composite to remove the greasy feel from organic UV filters and to offer soft focus anti-aging properties in the skin
Excellent oil soluble UV-A and UV-B filters for facial sun care
Oil-soluble vitamin C derivative with improved percutaneous absorption and stability to prevent lipid peroxidation and to promote collagen synthesis
MicellarCleansing Water contains:

Non-ionic surfactant made from 100% renewable, plant-derived feedstocks, creating perfect synergy of mildness, foam performance and effective cleansing
Fermentation-based extract derived from a clay microorganism that mimics the effects of clay on the skin; offers cleaner, smoother and more beautiful skin for all ethnicities and improves sense of well-being
Tasmanian Pepper fruit that soothes and calms reactive skin, reduces inflammation markers and appearance of skin redness, and relieves itching and burning sensations for better skin comfort
Larch trees to improve skin barrier function and to leave skin feeling soft and clean
Neckline & Décolletage Cream contains:

Lipid complex engineered from botanically sourced lipids, designed to deliver the skin surface lipid profile of a healthy, young adult by delivering and maintaining the same proper balance (as present in youth) of the lipid components (wax esters, sterol esters, triglycerides, squalene and sterols) that usually change as we age
Anionic, PEG-free O/W emulsifier of natural origin to allow the creation of emulsions with a very soft after feel, in a wide variety of viscosities
Plant-based complex of active ingredients works in synergy to supporting the natural process of lipid deposition lending fullness to the bust and to reshape the contours of the cleavage area and optimally accentuates the feminine features
Unique silicone elastomer system containing an advanced shea butter (skin super emollient) interspersed within the elastomer network for moisturizing, calming and skin smoothing properties, providing a soft and emollient-creamy skin feel while delivering a lasting barrier function. The optimized skin-temperature melting action of this shea butter blend offers skin softening and results in the most caring and luxurious formulations
A natural solution for lifting the skin that is derived from Isoleucine, an essential amino acid known for its ability to support tissue repair and lift vital proteins on the skin. It has the ability to fill wrinkles and reshape volume of the cheeks targeting the adipocytes for cellular volume and firm, targeting the fibroblasts to restore the dynamic contractile strength. It targets the cells that guarantee volume and firmness and uses proteasome to stimulate cell detoxification. Skin volume is redefined and elasticity is increased (after 2 months of routine), deep and moderate wrinkles are filled (after 1 ½ months of routine) and a radiantly healthy neckline with up to one cup size gained (after one month of routine)
We appreciate ECO-FRIENDLINESS.
Our formulations of mineral & botanical ingredients are naturally inspired & scientifically perfected to complement the skin's natural rehabilitation process towards glowing & healthy skin without jeopardizing our planet's Eco-system.
Our ingredients & formulations set us unique
Key (Multi-Purpose / Functional / Structural) Ingredients

Sclerotium Gum and Xanthan Gum: Excellent rheology modifier helps with good suspending properties, and a higher viscosity than what can be obtained with the individual ingredients at same dosage

Coco-Caprylate: Fast spreading emollient, suitable as an alternative to volatile silicones like cyclomethicone

Polysorbate 20: 100% natural and effective ingredient used as solubiliser, mild additive, and as a co-surfactant in products for sensitive skin

Preservative system suitable for sensitive skin: Safe, stable and effective preservative that have a broad, balanced spectrum of effects against bacteria, yeasts, mould and fungi

Cetearyl Alcohol: Maintains structural effect for the formulation and viscosity regulation. It has hydroxyl value of 215-225, melting point of 49-56°C, and an iodine number of max. 0.5

Caprylic/Capric Triglyceride: Provides a very balanced speadability factor vs emolliency and lubricity when compared with other emollients

Sorbitan Palmitate and Sorbitan Oleate blend: Secondary emulsifiers engineered to help sustain and structure o/w systems, increasing viscosity and stability while imparting pleasant sensorial benefits to formulations

Saccharomyces Ferment: Natural and biodegradable sensory improvement. For sun care, it can remove the greasy feel from organic UV filters

Sodium Citrate: Sodium salt of citric acid, added as a chelating and buffering agent to help maintain the pH of a product and keep it stable. It also has mild antioxidant properties and can act as a co-preservative

Butylene Glycol Natural: Acts as a solvent for ingredients and enhances their stability, texture, and absorption. Made from plants, not petroleum

Hydroxyethylcellulose: Thickening agent, available in granular form with non-delayed solubility

Triheptanoin: Non-greasy, clear and odorless natural emollient with an elegant after feel. Has excellent solvent properties for UV filters. non-palm, 100% natural, sustainably derived from castor oil and coconut oil
Key (Anti-Aging | Anti-Screen Blue Light | Anti-Air Pollution) Ingredients

Galactoarabinan: Natural, mild, non-irritating water-dispersible polymer improves the appearance of skin superficial fine lines, and reduces transepidermal water loss (TEWL) and provides SPF enhancement

Tocopherol: Vitamin E and antioxidant

Glyceryl Polyacrylate, Dimethicone, and Polysilicone-11 blend: Ensures high power of water retention in the skin and provide aesthetics and functionality to the formulations

1,2-Hexanediol and Sodium Hyaluronate: Uniquely formulated with seven different molecular weights of hyaluronic acid, provides skin with two modes of action for superior moisturisation at immediate and long-term

Terminalia Ferdinandiana Oil: Contains the highest level of vitamin c in the world, It prevents excessive loss of moisture through the epidermis, thus it revitalises, soothes, and regenerates

Jojoba Oil/Macadamia Seed Oil Esters: Patented blend, noncomedogenic lipid complex, carefully engineered from botanically sourced lipids, designed to deliver each lipid component in a balance similar to what is produced in the skin in youth. It increases the elasticity, firmness, and hydration of skin

Carnosine: Improves antioxidant properties of skin and increases millimolar concentrations in muscle tissues. It prevents glycation of the skin and light hyperpigmentation and oxidative damage. It also stimulate collagen synthesis of skin

Garcinia Mangostana Peel Extract, Chlorella Vulgaris/Lupinus Albus Protein Ferment, and Pyrus Cydonia Seed Extract: Improves skin elasticity and firmness, reshapes the contours of the cleavage area and supports the natural process of lipid deposition lending fullness to the bust

Jojoba Esters and Helianthus Annuus (Sunflower) Seed Wax: Gives skin comfortable feeling and improves skin hydration level and radiance

Alteromonas Ferment Extract: Improves the natural hydration process, induces lipid synthesis for a positive impact on the skin barrier function, and
stimulates skin hydration for a young looking skin

Anigozanthos Flavidus Extract: Decreases the appearance of skin wrinkles, sagging skin, and the appearance of wrinkles in eye area. It also increase tenascin-X synthesis to rebuild skin architecture

Palmitoyl Isoleucine: Corrects wrinkles, provides push-up, volume, elsticity and firming effect, reshapes volume of the cheeks and supports tissue repair, and targets the adipocytes for cellular volume and firm and the fibroblasts to restore the dynamic contractile strength

Alteromonas Ferment Extract: Neutralises the effects of pollutants to prevent skin damages and pollution-induced irritation and premature aging,
protects skin against polluted environment (outdoor and indoor) and purifies asphyxiated, dull and devitalised skin

Withania Somnifera Root Extract: Allows ATP production normalization, helps fibroblasts fight the deleterious effects of AVL, maintains cellular activity and the production of matrix key components, preserves the mitochondrial network from fragmentation, and protect the mobility properties of fibroblasts from the screen light

Tasmannia Lanceolata Fruit/Leaf Extract: Dims the inflammatory cascade for optimal calming effect, provides a fast relief from burning sensations, reduces UV induced erythema, and relieves itching discomfort

Caesalpinia Spinosa Gum: Thickening capability for medium to thick consistencies. This 100% natural origin polymer offers immediate hydration into water enabling cold process formulation, Multifunctional,
improving sensory with an elegant touch. Readily biodegradable
Key (Cleanliness & Freshness) Ingredients

Polysorbate 20: Effective solubiliser for essential oils and perfumes. Also used as amildness additive. RSPO MBAL grades available

Decyl Glucoside: Foaming effect without dermatologic compromises. Nonionic surfactant with excellent foaming capacity and good dermatological compatibility

Tasmannia Lanceolata Fruit/Leaf Extract: Dims the inflammatory cascade for optimal calming effect, provides a fast relief from burning sensations, reduces UV induced erythema, and relieves itching discomfort

Bacillus Ferment: Improves skin complexion, mimimises imperfectios, and provides clean, smooth and flawless skin

Galactoarabinan: Natural, mild, non-irritating water-dispersible polymer improves the appearance of skin superficial fine lines, and reduces transepidermal water loss (TEWL) and provides SPF enhancement
Key (Hydration, Rejuvenation & Protection) Ingredients

Propylenglycol: Viscosity enhancer and preservative booster. It also functions as an emollient, humectant, hand-feel modifier and solvent with excellent sensory characteristics

Butyrospermum Parkii (Shea) Butter: Provides a rich skin feel in combination with extended playtime during application. The optimized skin-temperature melting action of this shea butter blend offers unique skin softening and results compared to standard silicone elastomer materials

Ceteareth-6 Olivate: Derived from olive oil, luxurious moisturizer that is more compatible to the skin's hydrolipidic layer than other oils. It is easily absorbed and can effectively hydrate and revitalize parched, tired skin

Ethylhexyl Methoxycinnamate: Provides UV protection with great solubilizing properties for solid crystalline UV filters

Cera Alba: Natural emulsifier, forms a natural barrier on the skin surface, it is also a skin-softener and elasticity enhancer

Butyl Methoxydibenzoylmethane: Enables broad spectrum skin protection from both UVA and UVB rays

Octocrylene: Absorbes effective UV-B

Ascorbyl Tetraisopalmitate: Improves medium to deep lines, percutaneous absorption and stability, and whitening. Plumps up fine to deep lines, prevents lipid peroxidation, and promote collagen synthesis

Glycerin: Used as a humectant solvent and emollient

Tocopherol: Vitamin E and antioxidant

Panthenol: Helps manage the negative results that oxidative stress can have on skin, such as redness, fine lines, and skin roughness
Key (Firming & Voluminising) Ingredients

Terminalia Ferdinandiana Oil: Contains the highest
level of vitamin c in the world, It prevents excessive loss of moisture through he epidermis, thus it revitalises, soothes, and regenerates

Jojoba Oil/Macadamia Seed Oil Esters: Patented blend, noncomedogenic lipid complex, carefully engineered from botanically sourced lipids, designed to deliver each lipid component in a balance similar to what is produced in the skin in youth. It increases the elasticity, firmness, and hydration of skin

Squalene: Regenerates, restores and replenishes the natural levels of squalene in the skin, can help to restore a more youthful appearance. Traditionally obtained from shark liver, this version is from olives

Garcinia Mangostana Peel Extract, Chlorella Vulgaris/Lupinus Albus Protein Ferment, and Pyrus Cydonia Seed Extract: Improves skin elasticity and firmness, reshapes the contours of the cleavage area and supports the natural process of lipid deposition lending fullness to the bust

Jojoba Esters and Helianthus Annuus (Sunflower) Seed Wax: Gives skin comfortable feeling and improves skin hydration level and radiance

Palmitoyl Isoleucine: Corrects wrinkles, provides push-up, volume, elsticity and firming effect, reshapes volume of the cheeks and supports tissue repair, and targets the adipocytes for cellular volume and firm and the fibroblasts to restore the dynamic contractile strength

Tocopherol: Vitamin E and antioxidant
The Science Behind IBody NZ